The Best Bingo Games to Play for Fun
On this site you will find a comprehensive catalogue of all amazing and loved bingo games you can play for both fun and prizes. Our aim is to satisfy players' appetite for more variety, that's why we are going to provide you with plenty of information. There are so many more to the traditional, or standard bingo games everyone knows, that one page can hardly cover all without any exceptions. That's why we intend to be as detailed as possible and present high-quality bingo game variations that people search online and really prefer. These are games where you can take advantage of plenty of interesting and well-developed features. Some of them are new and promising, while others have already proven their worth. To sum up, here you will find:
Different types of bingo games explained: why and how to play them
Top quality bingo games to play on all your devices: saving you the time to research
Excellent combinations of bingo games with other games that players love
Traditional bingo games for all true fans, both standard and with a twist
The Most Popular Bingo Games You Can Find
Probably the best way to go about introducing the plenitude of popular bingo games is by grouping them around recognisable symbols. While at home, you can even make up your own bingo variants, but online you can take advantage of the already existing ones. Some even give bonuses or prizes, in addition to the community that you may participate in, should you desire that. Depending on the theme on which a game is based, and depending on the special features it offers, we may easily identify several large groups of online bingo games. The following paragraphs will introduce them in more detail.
Top Bingo Games Based on Hot TV Shows
Some of the hottest TV shows provided by popular production brands are brought to you by magnificent presenters. Because the public loves them, bingo operators and the brands often partner to bring more excitement. Players are given the chance to extend their entertainment. They can become part of the show, play bingo and win at the same time. Usually, the branded feature is an extra that you play after the bingo game is over and it gives away extra prizes. Easy. Here, we are taking a peek at the four highest rated games you can find on online bingo sites, but there are at least 10 such variations in total played online at different periods.
Coronation Street Bingo - An Exclusive Place Online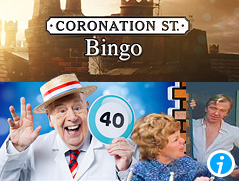 Since its first broadcast on December 9, 1960, Corrie has won a soft spot in every Brit's heart. The original characters are among the most recognisable ones across the country. It is amazing how long that soap opera has survived and still manages to enchant its audience. Therefore, it is not surprising at all that a bingo game based on it should emerge and rule the online bingo world. So far exclusively offered at Gala online, the Coronation Street Bingo game is very rich in its offering to players. The Corro room is open all day, every day and there are various games focusing on different aspect of the series. Beloved places, such as The Kabin or the Underworld are commemorated in 1TG and 2TG games and some BOGOFs. The numbers are called by none other than Reg Holdsworth (played by Ken Morley) and Fred Ellion (played by John Savident) pops in every now and then. And the exclusive treat? Well, all hardcore fans will be able to enjoy more than 100 videos from the series, starting from the early episodes to present-day ones.
Deal Or No Deal Bingo - What Is the Banker's Offer?
Deal Or No Deal, the smash hit produced by Endemol, has rocked the TV screen for nearly 10 years now. As you would most surely remember, it features the Presenter, the Banker and a single contestant who is regularly offered a 'deal' by the Banker. The main aim is that the contestant makes as much money as possible, while the Banker tries to minimise the amount he has to pay out. While playing DOND bingo, players have the usual three chances to win a normal 90-ball game: 1 line, 2 lines and a full house. After the Full House is claimed, the winner steps in to play the special Deal Or No Deal feature. A banker will call to offer a deal, determined not to lose what might be in the player's box. All qualifying players get a chance to vote whether the contestant should accept it or not, and then it's all up to the old question: Deal Or No Deal? The networked jackpot for the game is £10,000. All the Virtue Fusion bingo sites feature the game, and in Gala Bingo you can even play a 75-ball version, as well. In it, you have 4 chances to win in the game itself, plus the special feature jackpot.
Ant & Dec's Saturday Night Takeaway Bingo
When Ant & Dec's Saturday Night Takeaway Show started in 2002, it was very similar to previous light entertainment programmes and quickly became one of the most-watched shows. The charming presenters have managed to keep public attention by genuine sense of humour and the overall light-heartedness they lend their performance. Now, with the Saturday Night Takeaway bingo variation, players will be randomly placed in either Ant or Dec team. Then all odd numbers (red-coloured balls) win a point to Team Ant, while the even numbers (blue balls) accumulate points on Team Dec's side. At the first win, 1 line, one of the teams wins the round. In case points are equal, the winning team is determined randomly. Then, points are reset to zero for the new round. After the full house is called, the winning team will share the Ant vs Dec feature pot. Saturday nights also see the Win the Ads special game, where the full-house winner will have the opportunity to select three out of nine mystery prizes. From time to time a Final Call scratch card is released, as a bonus feature. So, quite like its TV counterpart, the Ant & Dec's Saturday Night Takeaway Bingo has lots of entertainment in store for all fans.
The X Factor Bingo: Face the Judges
For all music lovers there is the X Factor Bingo offer. Right now, you can find it in Mecca Bingo and it's a 90-ball game with a special bonus feature at its very end: the Judges Desk. The unfathomable judges hold one more ticket and the full-house winner will have the chance to fill that one in, and claim bigger prizes. If the full-house call coincides with a number on the Judges' ticket, you get a £5 reward. Complete 1 line and get £50, or two lines for £100. In case the amazing thing happens and you actually hit a full house on their ticket, the progressive jackpot will be yours. When you buy your tickets, you will choose your favourite category: Girls, Boys, Overs or Groups. Even if you're not talented in singing, you can still immerse in the atmosphere. Plus, you can always sing while playing. No judges can cancel you for bad tunes.
Bingo Games To Play on Facebook and Mobile
Recently, mobile bingo games and those that are available for social play, are more popular than any other type. There are so many bingo apps offered on Facebook, iTunes and Google Play, that it will be hard to cover all. Instead, I decided to take a look at the four most popular ones.
Bingo Blitz: Excitement and Community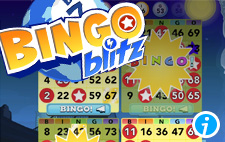 Bingo Blitz is a 75-ball bingo game with some of the great characteristics of an arcade game. Players enjoy power-ups that help them reach higher levels faster and they collect achievements. Part of the rooms where you can play represent different places of the world, and feature special collections which you have to complete in order to improve your status. There are also seasonal rooms, opening and closing at the appropriate time of the year. If you connect your Bingo Blitz account with the FB page of the game, there are more free credits given away there for simple things like comments or likes. Just like in all online bingo sites, the game offers slots in several amazing rooms. They have power-ups and unique features. All the time you will compete against many other players and you can chat while playing and between the games.
Bingo Bash: Get It Free and Enjoy
Bingo Bash is one of the hottest and most enjoyable bingo games available for Android, iOS and all PC on Facebook. Rooms are themed after various events - Christmas, for example, and topics, such as Candy Carnival or Sweethearts Bridge. Or, you may visit exotic places around the world. Over 50 rooms are at your disposal and there are more than 350 levels you may climb. The game you will play is Swedish bingo, so it's 75-ball without the free square in the middle of your card. The real fun in that type of bingo games comes from the power-ups and the possibility to achieve higher levels, to accomplish missions and so progress in your status. Updates and novelties are released regularly, and the support for the gaming app is really recommendable.
Bingo Blingo - the Top Offer on Facebook
A very new game, it took Facebook and the app stores by storm. In Bingo Blingo you will play 75-ball games, with horizontal, vertical, diagonal lines and 4 corners as winning combinations. In the special-pattern rooms you can play patterns and blackout. So, the connection to good old crazy patterns is not lost. There are various rooms, just as with other developers and, of course, power ups. Plenty of team games, where your team will collect items, scores and what not in order to open new rooms, climb new levels and use up new goodies. And just what is a Blingo, please? Well, that is the sum of all the achievements in a given room. Earn them all, get a Blingo and win the prize.
Slingo - Slots Plus Bingo
Most people who grew up with Yahoo and MSN Games, know Slingo very well. Recently, it has lost plenty of its shine, as new bingo games emerged. However, you can still find it across many platforms online. It is a classic combination game between slots and bingo. You have 20 spins, each resulting in 5 numbers. If they are found on your board, they are marked off. If the spin yields a Joker, that is a wild number and you can use it to mark off any number you like. Devils, Cherubs and Free spins appear from time to time, as bonus features to diversify your experience.
Traditional Bingo Games We All Love
Here is a list of the standard, or traditional variations of bingo that are popular around the world. Although many innovations have appeared, plenty of fans stick to the traditional versions. Online bingo sites, just like reputable land-based halls, organise some linked games and tournaments. In those, players can win bigger prizes from the joined prize pools. Click here to read more about this sort of events.
Bingo 90
Everyone knows the good old 90-ball bingo game. It's tradition in the UK and across Europe. Naturally, all bingo sites online offer that. And, surprisingly, for such an old game, it's still the most popular variation of bingo played. In case you're not sure about it, that's the version where you play with a ticket that has three rows and nine columns, so 27 squares in total. There are 15 numbers on the ticket and they can go between 1 and 90. The winning chances there are three: 1 line, 2 lines and a full house. The lines can be any lines, as long as you cover horizontal lines, of course. Because it is so common, there are numerous variations where the game is played in combination with other great games. You will read about that in the other sections.
75-Ball Bingo
Another oldie but goldie is the American favourite, 75-ball bingo. It features a square 5x5 ticket that has one free slot in the centre. The letters B-I-N-G-O are typed on top, each heading a vertical column, and numbers are called with the heading letter in front, so as to make it easier for players to look for it on their cards. Of course, with auto-daubing nowadays, finding your numbers is not a problem at all. Here, the winning chances are more than those with Bingo 90. On the one hand, there are fewer numbers to call, just 75. Yet, on the other hand, there are more numbers printed on your ticket. To make it short: you can win by filling in any line, be it vertical, or horizontal, by filling in the diagonal or by hitting a full house. Some online sites offer a Swedish bingo version, without a free square on the card, which is played directly for the five lines and a blackout. The special twist Americans added was the patterns. Sometimes, 75-ball patterns are played and the cards have a pre-marked pattern that needs to be filled in. You may check this resourceful site and find cute examples of these patterns. As you noticed in the above paragraphs, Bingo 75 is the usual version for mobile apps, where it gets a new development with achievements, levels and missions.
Bingo 80
Before combined bingo games were invented, 80-ball was the innovation that added spice to the routine. It remained a fresh thing for quite some time, and it is not to be found in all online bingo sites yet. Between 90- and 75-ball, using the square layout of the latter, it is played on a 4x4 grid. There is no free square and instead of letters for easier location, the caller uses colours. The vertical columns are, from left to right, red, yellow, blue, and white. Patterns can be used again, as well as the usual lines and a full house. It all depends on the provider of the game, of course.
Standard Bingo Games with a Twist
Because players scream for more variety, some special types of bingo games needed to be created, without going too far from the original one. And here are several of the same games with an added twist for more excitement. It is either played with less balls or with more card types. Read on.
30-Ball Bingo
One such is 30-ball bingo, also called 'speed bingo'. It is played on a 3x3 card and the numbers called are between 1 and 30. So, a lot more games can be played within one hour, and the chances to win are better. Of course, because the jackpots are often won, they rarely get too high. The game is won by a full house only, though some providers go for diversification, by offering prizes on 1 and 2 lines, as well.
Bingo 50
Now, to be honest, bingo with 50 balls is offered at two places only at the moment. Gala Bingo online have the Coconut Island room where coconuts fall from a palm tree and reveal the numbers. The card has two lines by five numbers and the player to make a full house is the winner. Same conditions of the game are valid with Tombola, the only other operator featuring this variant. There, your card looks like a bubble wrap and whenever you find the number called on it, you pop the bubble. The game is pretty fast again, as there are fewer numbers to get called.
Bingo 60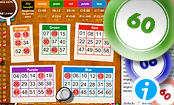 This is an exclusive bingo variation offered only at Tombola. There you may choose between five colours of tickets and there are five different prizes and jackpots for grabs. Only full house is a winner. Orange tickets have 6 numbers on them, 2 vertical columns by three rows. Green tickets host three columns and three rows, which makes 9 numbers. Red tickets have 12 numbers printed, and they go in 4 columns and three rows. Purple cards feature five columns by three rows, and so 15 numbers. The final, blue cards hold 6x3, therefore 18 numbers in total. Quite a diverse game, in my opinion, and I would expect to see this one more popular with time.
Fortified Bingo Games
There are two ways to 'fortify' a game of bingo. One is by combining bingo with other games, equally loved. The other one is by offering special jackpots that are won with some exclusive bonus feature after the normal bingo game is over. This section will look at the top-searched special games on the Internet.
Successful Combinations - Combining two games usually results in increasing the popularity of both of them and gathers a large fandom, bringing their fans together. Here are a couple of the most popular hybrids.
Bejeweled Bingo - Combo Boost
Everyone knows the Bejeweled game. It has many versions, but they all come down to the same essence: shift the jewels on your grid in such a way as to form a line of three or more identical ones and you eliminate them. The more you eliminate, the higher your score gets and the easier it is for you to move a level up. Moving to Bejeweled Bingo, a variant offered at Jackpotjoy, one of the Gamesys sites, we have to say that it is a 90-ball game, where you have the normal three winning patterns. After that, a Bejeweled Challenge is triggered for all players. They play a 1-minute game of Bejeweled, in which they try to beat both an individual and a group score in order to win some free tickets for the next bingo game. The bigger the score, the more tickets you will receive.
Bingo Roulette with a Style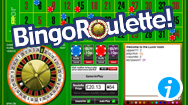 While bingo is the favourite game of luck for common pastime, we can well argue that roulette is the epitome of a casino game. Tombola have invented a speed and interesting 37-ball game, where the number calls go by the name of 'spins' and a set of casino chips represent a bingo ticket. Each chip contains 8 numbers, and there are no duplicates. The numbers are called in a roulette fashion, the wheel spins and the number called fades on it, so it cannot be called again. When a number is called, the chip is removed from the table. The player to first clear all her chips of the same colour (i.e. an entire ticket) off the table wins the game.
Hold on for the Jackpot - Apart from hybrid specials, online bingo offers games that feature extra jackpots. They differ with the different providers and are usually consistent across a bingo network, which increases the jackpot that makes them attractive in the first place.
Bingo Royale
This is a royal offering where during a normal 90-ball game the Queen of Bingo may happen to be in her palace and give players her Royal Pardon, allowing them 5 more balls. Should it be so, the full house hit in that time will also mean that the winner gets part of the Royal Jackpot. The game is played on the Jackpotjoy bingo site and is very popular among fans.
Lucky Numbers Bingo
Another special jackpot-fortified game is the Lucky Numbers Bingo which is played across the Virtue Fusion bingo sites, such as Ladbrokes or Mecca. It is a normal 90-ball type of bingo, in addition to which every player has to choose three numbers. If one of the prizes in the bingo game is claimed on one of your numbers, you get a cash prize. The best of all happens if all your three numbers are involved as you'll grab the golden prize.
Other Types of Bingo Games Explained
Winning is sweet and diversity is the spice of life. Modern players have a huge appetite for both. Apart from the games offered on the Internet, you must know there are plenty of curious bingo games that you can play offline, as well. Many are played in land-based halls, and some can be actually played at home, in the office, or on a long trip.
U Pick Em Bingo: This game is not so much about luck coming to you, as about fortune telling of the winning numbers. In it, players get empty bingo cards where they fill in their 'lucky' numbers in the required pattern of the game. As an US favourite, it is a 75-ball game, and patterns are the best part of it. For regular players, this game is similar to lottery and some even play with the same numbers every time.
Buzzword Bingo: It is especially popular in offices and can be used to relieve stress when on a meeting or any other corporate event. The card contains 24 buzzwords which players mark off when a speaker mentions them. The words can be replaced with situations that are routine for a specific working place, and they can even picture team-members' names with some of their habits.
Roadkill Bingo: A slightly dark game, it is very popular to play while on a long road trip. It is a typically American invention, and there are even sets of ready-made cards sold with different retailers. On a card, there are 24 animals that are the usual victims of incidents and could be met along the way. The card may contain tires, a shoe, produce, or smell as road findings, as well.
Judging by the rich variety, it is clear that one cannot cover all the different types of bingo games and explain them in detail. Yet, here we presented the top bingo games, those that people love, search and have fun playing. We can only hope you've had fun reading our article.